The most popular improvements are: power, economy, ride comfort and interior.
Power: As standard, the V8 is fitted with restrictors between the carburettors and manifold to reduce power to 90 bhp. Land Rover felt that any more would make the vehicle too fast for the brakes and suspension. The restrictors are quite easy to remove. Take off the carburettors and you will see the restrictors. They are held in with snap rings, and can usually be levered out using a thin bladed screwdriver. Take care not to damage the manifold, and fit new carb to manifold gaskets on reassembly. This modification will take the engine to standard Range Rover tune (135 bhp).
Increased power might be useful if you plan to do this. (Illustration from owners handbook.)
Gerhard from Germany wrote to me with the following, which might be useful if your V8 is terminally sick:
We had a Rover dealer in the next village who brought the consumption of his very early Range-Rover considerably down by fitting the SD1 series 1 engine into that car. Higher compression usually gives lower consumption and the added power helped as well running most of the time at part throttle. Even when air conditioning was added later on, the consumption was very reasonable. I once used the car for towing a trailer with a Bentley Mk VI on the trailer. Even at cruising speeds of 70-80 mph (on the continent congested motorway) the consumtion stayed at 17.5 mpg. My own SD1 always stays better than 26 mpg. Full speed cruising in Germany (500 miles 4hours 15min) was still better than 26mpg. That's why I believe in the efficiency of this conversion.
Economy: The gearbox is fitted with extra low (1.336:1) transfer gears to give better load hauling ability. This makes the vehicle noisy at even moderate speeds, and hurts the fuel economy. The transfer gears can be replaced with standard Range Rover (1.116:1) items (easily available second hand) - this operation can be done with the gearbox in the vehicle. The acceleration will not be as good, but you can cruise at 70 mph and still hear the radio.
Ride comfort: Over the last couple of years, parabolic springs have become available from several different companies. They are around twice the price of the standard springs, but give a ride very close to that of a coil sprung One Ten. However, due to their much longer travel, they are not recommended for vehicles which are regularly driven heavily laden.
Interior: Several companies make high back seats, in either cloth or vinyl, to replace the rather uncomfortable originals. A sound proofing kit is worth fitting, and it is also worthwhile replacing the fixed seat belts with more modern inertia reel items. These were fitted to very late Series III vehicles, and most Land Rover specialists stock them.
Tyres: The Stage One is rather too fast and heavy for the 7.50-16 crossply tyres which would have been fitted originally. I had a Stage One on heavy-treaded Nankang crossplies, and its on road behaviour was bad enough to be dangerous, especially when towing a trailer. I replaced the crossplies with radials (Goodyear G90, even more aggressive tread than the Nankangs) and the instability and tendency to wander were instantly cured. For ordinary everyday use the old Avon Rangemaster 7.50R16 is hard to beat.
Various sites of interest to Land Rover fans:
Stage One Forum and Land Rover V8 Forum
Internet Land Rover Club - lots of Stage One photos and info
Stage One Pages - Home of the Land Rover V8 Forum, useful technical info, and a photo gallery
RPI Engineering - Rover V8 specialists, good mail order service
LROI Forum - lots of spares, technical help etc
Mansfield Motors - parts and service in Suffolk. Recommended.
Land Rover Orphanage - huge stocks of hard to find Series spares
Ace Engineering - I just bought a grit blaster from them, and it's an amazing piece of kit. Excellent value as well.
House of Hastings - mail order tools. I ordered a compressor from them Friday lunchtime, it arrived Monday morning. Cheap too.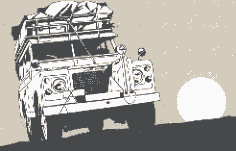 Did you enjoy this site? Please e-mail me and let me know what you think.
Glencoyne Engineering - Land Rovers for sale