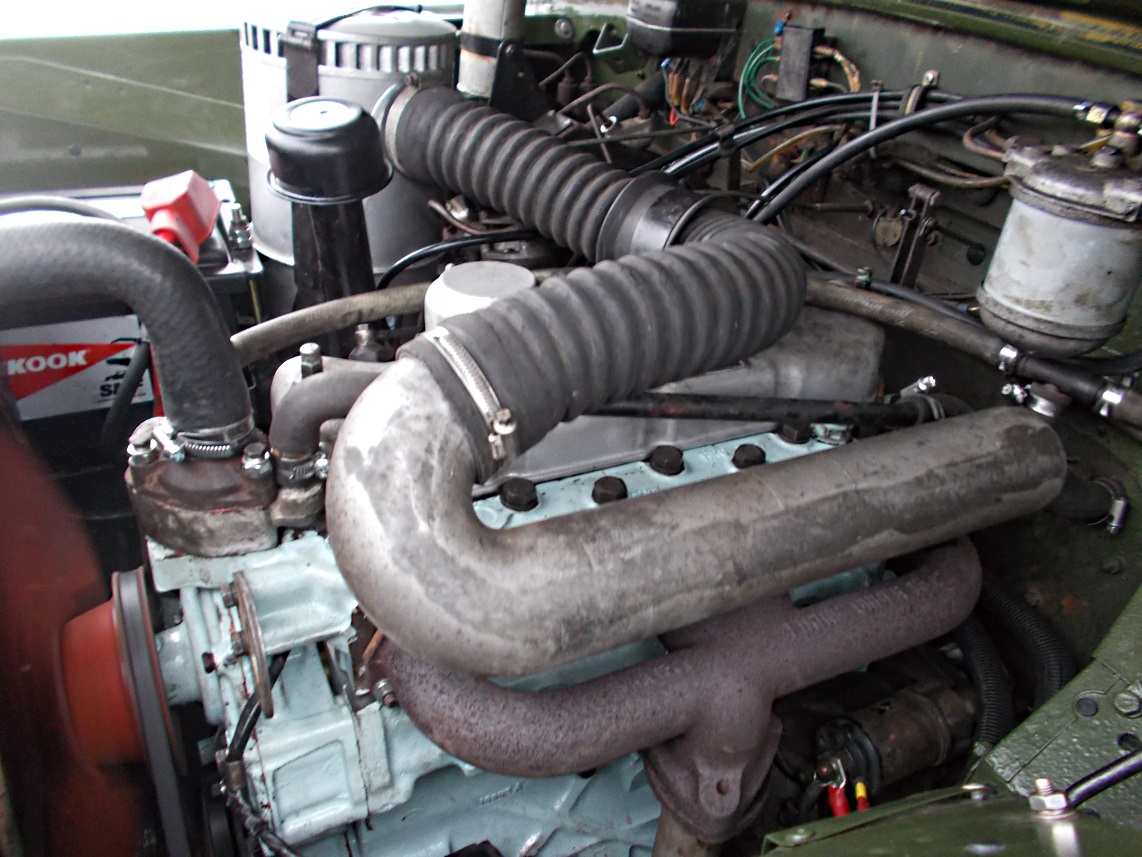 I have thirty years' experience working on the four cylinder 2.25 / 2.5 Land Rover engines from the "two and a quarter" to the 300TDi. I know these engines inside out and can offer a range of repair and rebuilding services to help keep your vehicle on the road.
Recent jobs include:
Defender 300TDi - full rebuild from bare block with new cylinder head

Series IIA - "hybrid" diesel using 2.5 block, crank and head with recalibrated 2.25 injection pump, retaining the original appearance but with more power and durability. See above photo.

Ex-military One Ten: original 2.5 non-turbo diesel rebuilt from bare block

Ex-military 11J diesel overhauled and converted to full 19J turbodiesel specification

Series IIA 2.25 petrol engine rebuilt and converted to run on unleaded petrol
Unlike the big firms I can be flexible to suit your needs and budget - each engine is different and I can do anything from a cylinder head overhaul to a full bare-block remanufactured engine with original quality components used throughout. I can fit the engine or supply it on a pallet for you to fit. I can offer (subject to availability) "fully dressed" engines with all ancillaries (starter, alternator, fuel system etc), bench tested and ready to simply drop it and connect up. I also have a good stock of second hand parts for the four cylinder pushrod engines.
I do not carry out machining work in-house but have an excellent working relationship with two leading machine shops, both of which possess far more modern and sophisticated machine tools than I could ever justify buying. Reboring, block sleeving, crank grinding, cylinder head work, cam bearing fitting and reaming etc etc are all "no problem" to these guys.
Prices: I do not have a fixed price list as I work to your requirements rather than expecting you to fit your needs in with mine. However, a full bare-block rebuild on a 2.25 petrol or diesel engine will typically cost around £2,000 (excluding fitting and ancillaries). A 300TDi with new head, AE or Kolbenschmidt pistons, OEM quality bearings, head gasket, crank seals etc would come in around £3,000. A "budget" mid-life overhaul of a 300TDi where the bores and crank are in good shape, using unbranded pistons etc would be about half that.
Ring me on 01953 888731 to find out what I can do to give your smoky old Land Rover a new lease of life.
P.S. If you have any old engines lying around, please do not weigh them in for scrap until you have spoken to me. I am always interested in Series engines (petrol or diesel), later 2.25 / 2.5 petrol/diesel or 200 / 300TDi in almost any condition - worn out, seized, incomplete, even an engine with a rod through the block can yield some useful parts.
Covering Norfolk, Suffolk, Cambridgeshire, Breckland, Fenland
Nearest Towns: Thetford, Brandon, Bury St Edmunds, Newmarket, Cambridge, Diss, Mildenhall, Lakenheath, Stowmarket
Servicing, repairs, restoration, MoT test preparation, mechanical overhaul, welding, rewiring, timing belt changes, clutch and gearbox replacement, brake system repairs, steering box replacement and much more