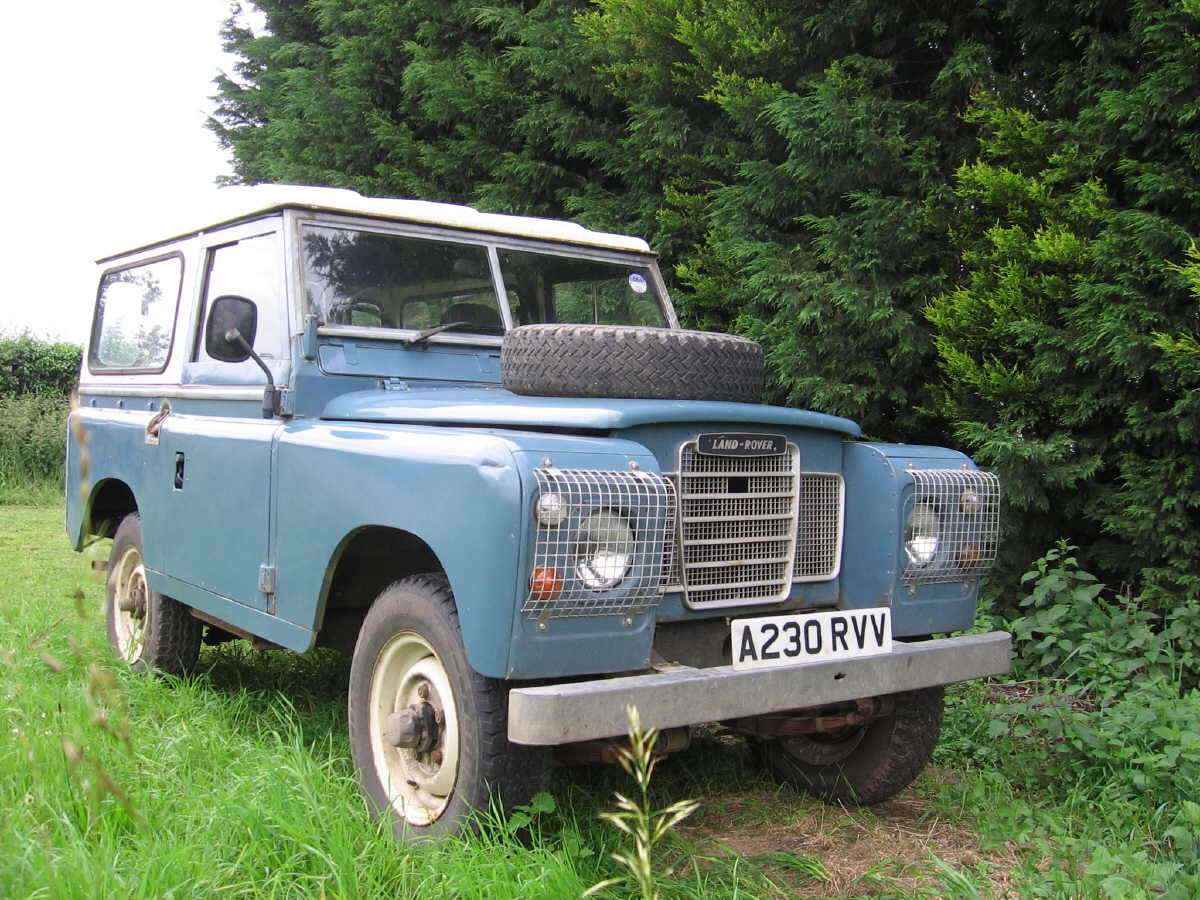 The development vehicle for the 200Di conversion
Diesel engines have always been a bit of a weak spot in the 'Series' Land Rover range. The story started in 1957 with the first 2 litre diesel, available in the last of the Series 1s and the first Series 2s. This had reliability problems and was a little underpowered even by late Fifties standards, so it was given a major reworking in 1961. The resulting 'two and a quarter' (2286cc engine) proved remarkably long-lived, but performance was still a little marginal. I have always found these engines a little lacking in low end grunt. They have to be revved quite hard to make good progress, and when treated this way they often sound as though they are about to blow up. (Sometimes they do.) Hang a heavy trailer on the back of a two and a quarter diesel Landie, and you will find yourself being overtaken by old men on bicycles.
Over the years very many different diesel engines have found their way into Series Land Rovers to overcome this problem. Some are very good, others less so. But they all suffer from one of two problems - long term parts availability worries (especially with the Japanese engines), or the need to hack the vehicle about, cut holes in the bulkhead, weld new brackets onto the chassis etc to make the engine fit. Most recently the Perkins Prima turbodiesel (ex Austin Montego) has been very popular and successful: but old Montegos are getting hard to find, and now something new is needed. Enter the 200Di....
What is a 200Di?
Put simply, it is a Land Rover Discovery 200TDi engine, downrated by removing the turbocharger and intercooler. The Mk1 Discovery sold in very large numbers from 1989-94, and many of these vehicles are now reaching the end of their life. They have a reputation for body rot, and the early ones are now reaching the stage where they are not worth spending money on. The 200TDi is a very strong, durable engine, and with all those Discos being broken you should be able to pick up a good sound engine complete with ancillaries for no more than £500.
Why remove the turbo?
It makes installing the engine in a Series Land Rover much easier. You don't need the full-width radiator with oil cooler and intercooler, you can use the standard Series radiator instead. You don't need a custom-made exhaust system, just a Series exhaust manifold and some clamps that you can make yourself. You don't need to be able to weld, or have access to a huge pile of spare parts.

With the turbo removed, the engine will be very understressed. It is designed to cope with the high temperatures and pressures of a turbo installation, and even in turbo form these engines are good for 250k miles or more. In non-turbo form they should last just about forever.

Downrating the engine will also give the transmission an easier time. A Disco 200TDi knocks out 111 bhp and huge amounts of low end torque - far more than a Series gearbox and rear axle were designed to cope with.

You can't use the extra power in normal conditions anyway. The brakes, suspension and steering on a Series vehicle are just not up to driving at the kind of speeds that a TDi is capable of. If you want to be able to cruise at 80mph, a Series vehicle is not the right vehicle for the job. If you are towing heavy trailers up steep hills, then the turbo will definitely make a difference, but unless you are careful with your right foot you will spend a lot of time replacing transmissions, half-shafts and diffs.
The hardest part of a 200TDi into Series conversion is the plumbing: custom exhaust, intercooler, and either sourcing a separate oil cooler or modifying the radiator panel to take the Discovery radiator. So even if you are planning a full-fat TDi installation, the '200Di' route allows you to do the conversion in stages. If you prepare the new engine before you start taking the old one out, you should easily do the transplant in a weekend and get the vehicle up and running. Then you can come back to it later and do the radiator, oil cooler, intercooler and finally the turbo and exhaust as separate projects.
What is it like to drive?
I have not yet put a 200Di conversion on a rolling road, but I reckon it is putting out around 75bhp - around the same as a healthy petrol Series 2 or 3. It feels as though it has far more low end torque than any of the old Series engines, and will happily accelerate uphill from as little as 30 mph in top gear with the overdrive engaged. Performance is lively for an old Series Landie, but not quick enough to overwhelm the standard brakes and suspension. There is more than enough power for towing - my 200Di converted Series 3 will happily tow a 2 tonne trailer at 55 mph on the motorway, dropping to around 45 on long hills. Fuel consumption is around 35 mpg in normal use, dipping slightly below 30 when towing.
One other good thing about the 200Di engine is that it has a Bosch injection pump which should cope happily with running on vegetable oil - unlike the Lucas DPA pump on older Land Rover engines. I have not yet tried the vegetable oil route myself, but I know someone who has been running a Discovery on a 50:50 mix of diesel and vegetable oil for some time now with no problems.
Any disadvantages?
The 200Di is a direct-injection diesel, and it is significantly noisier than the old two and a quarter. If you fit one of these engines to a Series vehicle you really need to think about soundproofing - floors, transmission tunnel, bulkhead and ideally the underside of the bonnet as well. There is also a fair amount of vibration - the Discovery has absolutely huge engine mounts to soak up the vibes, but on standard Series diesel mounts you will find that anything in the vehicle that can rattle, will. If you want to cruise at a reasonable speed you will need an overdrive or high ratio transfer box - even then, my Series 3 (on 205R16 tyres) sounds very 'busy' above 60mph, and could really do with slightly higher gearing.
How easy is it to convert to 200Di power?
DIFAQ - frequently asked questions - click here
Covering Norfolk, Suffolk, Cambridgeshire, Breckland, Fenland
Nearest Towns: Thetford, Brandon, Bury St Edmunds, Newmarket, Cambridge, Diss, Mildenhall, Lakenheath, Stowmarket
Servicing, repairs, restoration, MoT test preparation, mechanical overhaul, welding, rewiring, timing belt changes, clutch and gearbox replacement, brake system repairs, steering box replacement and much more