I have decided to stop updating this blog as it is much easier to post my random thoughts on Facebook:
www.facebook.com/GlencoyneEngineering
First 300TDi conversion done (16/10/12)
With the supply of good 200TDi engines starting to dry up, I have been thinking for a while about trying a 300TDi conversion. I have now done the first one, and I am very happy with it - nice neat installation retaining the original air cleaner. It does require new engine mounts welding on - I tried fabricating some brackets to use the original chassis mounts, but I wasn't happy that they would be strong enough, and the exhaust downpipe routing was a bit tricky. Anyway, customers considering a TDi conversion now have two options to choose from, both at the same price, which should make sourcing engines a bit easier in future. At some point I will produce a fitting guide similar to the one I have already done for the 200TDi. For now, here's a picture of the installation, minus a couple of bits that I still had to do when I took the photo.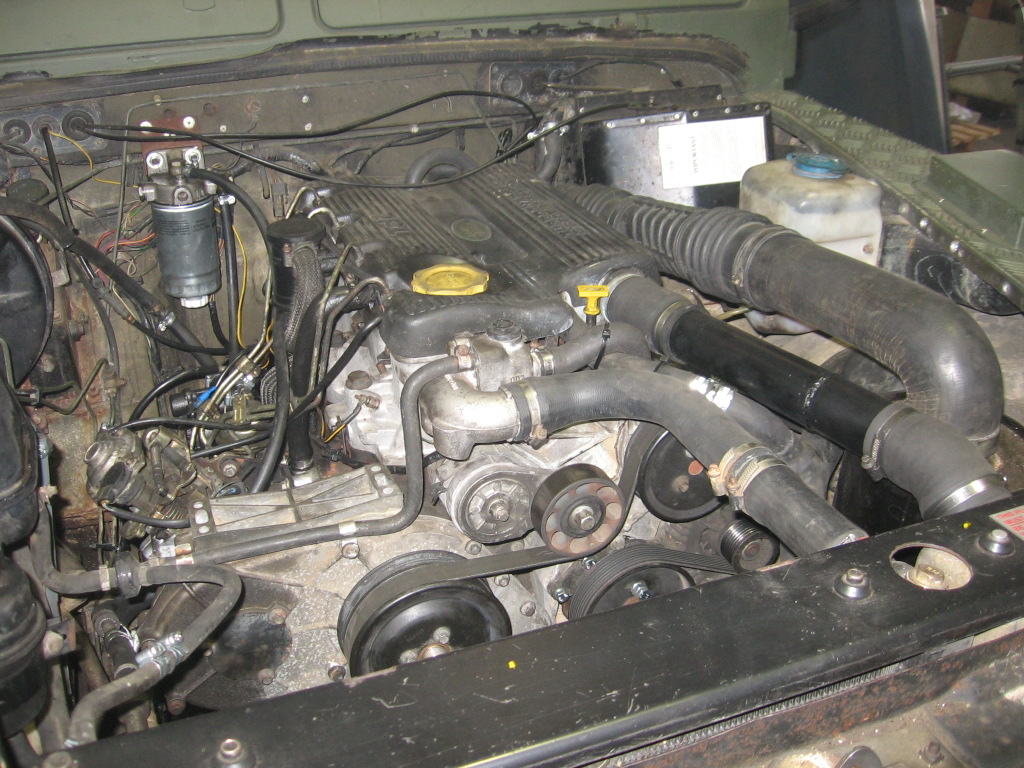 On the very day I got the 300TDi up and running I was offered a job lot of five 200TDi engines... That should keep me going for a while, four are already spoken for. I also have a fairly major ongoing project, breathing new life into a solid but tired Series 2A, with a reconditioned 5 bearing petrol engine, rebuilt gearbox, high ratio transfer box and lots of other goodies. I'm really looking forward to driving this one, especially as it was so horrible to drive when it came in.
Back for now (16/9/12)
I'm back from my holidays, although away again September 26th - 30th. As promised, my 200 / 300 TDi guide is now available here. And I have also set up a Facebook page here, which I will be using to notify site updates, new products and other stuff of interest to fans of old Land Rovers.
How long since I last updated the site? (7/9/12)
More than a year - that's really a bit rubbish. Must try harder. But not right now as I am off on holiday. Back on the 17th September, when I might finally get round to posting up the 200 / 300 TDi guide that I have been working on for ages. I'll also be doing my first 300 TDi into Defender conversion, so I'll take a few photos and describe some of the snags that I will doubtless encounter along the way.
Not only that but I have a big pile of bits to put on Ebay as well.
Glencoyne in Series 3 TDi shock (4/7/11)
Is it really six months since I last wrote anything on this blog? How embarrassing - must try harder. In my defence I have been a little busy. I finally managed to get my two longest-stay residents finished and out of the door - a gorgeous Stage One V8 hard top in Marine Blue (rebuilt from a total wreck, so bad that I had to break two other vehicles to get all the bits I needed) and a 1955 Series One which was an ex trials vehicle and possibly in even worse shape than the Stage One. In between those the usual handful of 200Dis into Series vehicles, 200TDis into Defenders (I reckon I am up to around forty conversions now) - and a TDi into a Series 3 Lightweight, turbo and all. Some people seem to think that I don't like TDi Series conversions - not at all. I'm very fond of the 200Di as a cost-effective replacement for tired, smoky old 2.25s, but there is something a bit subversive about a Series 2 or 3 which goes a lot faster than people expect - I've run a few Series vehicles with Rover V8s and loved them. As long as people are aware of the potential downside of putting 111bhp through a drivetrain of basically 1940s design (in short, it is quite easy to break things if you are heavy with your right foot) then a TDi-powered Series 2 or 3 is grrrrreat.
But until recently I had never actually put a full-fat TDi into a Series. Why? Simply because no-one asked me to. But now I have done one, and at some point I will post some more details. For now here is a photo of the (almost) finished product: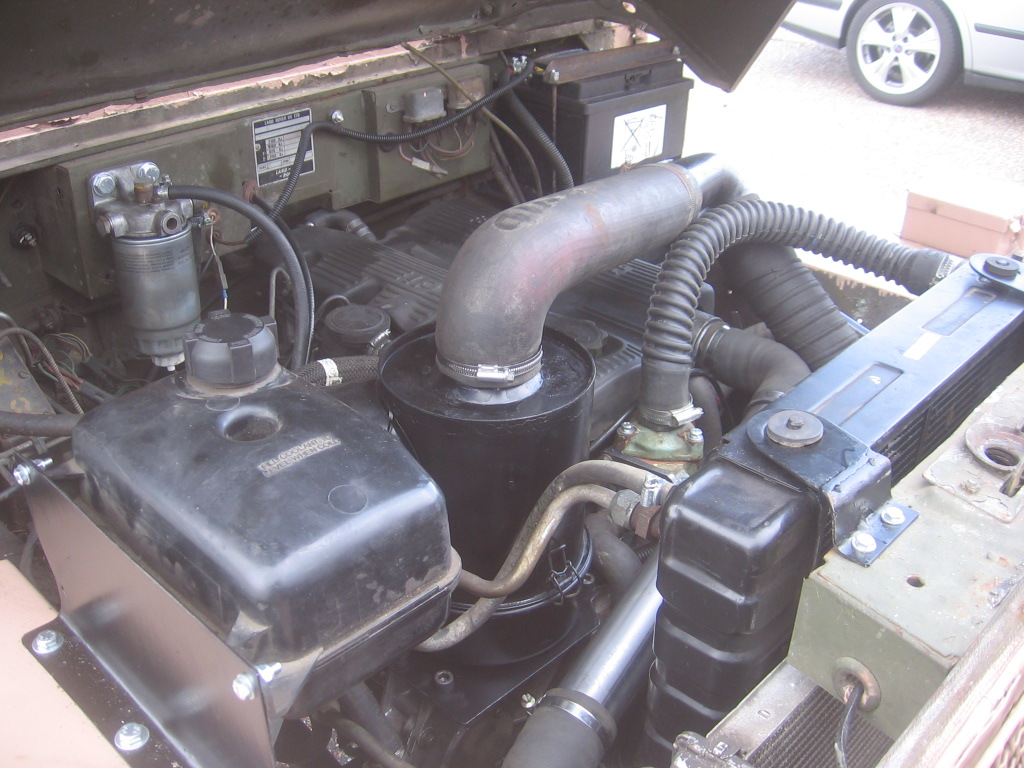 In brief: 200TDi, turbo 'clocked' 90 degrees, 200TDi radiator on brackets welded to the front crossmember, TD5 intercooler, Disco 200TDi bottom intercooler pipe with two straight slicone hose connectors, top intercooler pipe uses a straight length of 2" steel tube with two 75 degree silicone hoses (ex Defender 200TDi - thanks to my mate Richard for upgrading to spiffy new blue hoses and throwing the old ones in my direction). Disco oil cooler pipes gently reshaped to clear the injection pump, Disco expansion bottle, Defender 2.5TD air cleaner. This being a Lightweight I managed to squeeze the battery in above the passenger footwell - couldn't put it under the passenger seat due to twin fuel tanks. Steve Parker exhaust system, Ashcroft high ratio transfer box, goes like a bat out of hell even on the high gearing and 7.50 tyres. TD5 intercoolers seem to be readily available and cheap, and it really makes the plumbing a lot more straightforward. I used a Series thermostat housing (200Di style) to keep the top rad hose out of the way of the intercooler pipework. I also treated it to a cable throttle - simple and effective, so I have updated the 200Di pages to show how I did it,
Coming soon - Defender 200TDi conversion exhaust brackets. Sorting the exhaust on a Ninety is easy enough if you are replacing a TD - just keep the TD exhaust - but for non-turbo and petrol vehicles it can be a bit vexing. The TD exhaust mounts are all either NLA (No Longer Available) or outrageously expensive. I have developed a set of brackets to fit a 200TDi exhaust system to the older Ninety chassis (pukka TDi brackets are also NLA or expensive), just need to make up a few sets and I will put them on my web shop.
Fancy an old Land Rover for the summer? I have a nice (but currently poorly) Series 2A looking for a new home, or if you fancy a bit of a beast, the Stage One V8 Hicap that I brought back from the dead three years ago is up for sale on Ebay. Very solid, very rare, useful and fun to drive, just needs a coat of paint to finish it off. Knowing how much work has gone into that particular vehicle I reckon it is a bargain.
And finally, for all you 200Di DIYers out there, a cautionary tale. I had a Series 3 recovered in a couple of weeks ago after the engine lost oil pressure on the motorway and seized. It was a 200Di, but clearly done by someone who had not read any of the stuff I put on this website. I had a good idea what had happened and I was right. The oil cooler pipes were still attached to the filter housing but with caps screwed over the ends to block them, and the oil thermostat was still inside the filter housing. So when the oil got nice and hot the thermostat opened, tried to route the oil through the blanked-off pipes, cut off the oil supply altogether and the pistons welded themselves to the bores. That is the second time I have heard of this happening. I ended up transferring all the bits to a good Disco bottom end - luckily the lack of oil had not trashed the valve gear or valve guides, but an expensive mistake nonetheless. So if you are going to delete the oil cooler on a (T)Di, or indeed any other four cylinder Land Rover diesel, make sure you take out the oil thermostat, or it WILL go bang.
200TDi into Defender - guide now online (14/1/11)
I have been meaning for a while to put together a guide to the ever-popular fitment of Disco 200TDi engines into older Defenders. At last I have finished it - click here to read it.
New article (10/1/11)
Demand for 'project' Land Rovers seems as strong as ever, so I have put together a short piece listing some of the things you need to consider when taking on a vehicle for restoration. Click here to read it.
I have also finally got round to a piece I have been meaning to write for some time, on the laws around rebuilt and modified Land Rovers. Click here to read - well worth a look if you are planning a project which involves significant changes from standard specification.
Happy New Year (10/1/11)
Happy new year to all my customers, and first an apology. In the run up to Christmas I was laid low with the dreaded swine flu, which casued a lot of disruption especially with sending out parts via Ebay and my web shop. The bad weather didn't help either. I apologise to anyone who received sub-standard service during this period. I am now fully recovered and have just about caught up with the backlog.
A new - or rather redesigned - product for you this month. I have now redesigned my very popular 200 TDi crankshaft locking tool so that it can also be used to lock gearbox and differential drive flanges. If you have ever had to replace the pinion seal on a Salisbury back axle you will know just how hard it can be to get the pinion flange nut undone, and even the gearbox output flange nuts on Series boxes can be a brute to shift, especially if the box is out of the vehicle. Not with the Mk2 locking tool. I have them listed in the Ebay shop and will update the web shop shortly.
One of the more interesting jobs that has come my way recently was replacing the old LT95 4-speed gearbox in an early 110 V8 with the later 5-speed LT85. This one required much reference to the parts book but the end result worked well. Not an entirely straightforward job; you need to replace the floors, transmission tunnel, replace or modify the seat box, change the front propshaft, and although gearbox mounting brackets are available from Land Rover the cost will make your eyes water. But now I have done one I am quite happy to do another, and I find myself wondering whether the same conversion could be applied to the Stage One. It looks do-able although the front propshaft might be tricky, and I'll have a go if anyone is interested.
I have had another flurry of enquiries for 200TDi into Defender conversions, so if anyone is hoarding a good Disco 200TDi engine I might well be interested in taking it off your hands. Currently in the workshop is the most awkward 200TDi conversion I have yet tackled - an ex Royal Marines winterised 110 with Webasto pre-heater and full length auxiliary heaters in the back. More plumbing than a steam engine...
I had a quick hunt round the workshop and found various useful bits which I have put on Ebay. More to follow in the next couple of weeks as I try to sort through the mountains of stuff that I had to move from the old workshop. I also have some more alternator kits for 200Di conversions - available through my web shop, but hurry as these always seem to sell out quickly. My main New Year resolution is to increase the range of OEM quality parts in the web shop. I know there are a lot of people out there who are fed up with poor quality junk parts that don't fit, and I want to do something about it.
On the move (1/11/10)
Glencoyne 4x4 is moving! But not very far - I was offered a larger unit on the same estate at a very reasonable price and it seemed too good to turn down. New address is 2 Kelvin Place, Thetford IP24 3RR. Landlord hasn't put the signs up yet, and I haven't rented the offices at the front, so don't be put off by the appearance of emptiness - come round the back and bang on the door. I have just spent the best part of a week moving huge quantities of old tat from the old place to the new, so expect a big Ebay tat sale soon. I am now established in the new place and open for business, but telecoms are proving a headache. Right now I have no landline and (thanks to the hopelessness of my telecoms provider) no immediate prospect of getting one if I want to keep my old number. Also no Internet/email during the daytime, but that should be fixable with a PAYG 3G mobile dongle, provided such things work in Thetford. So if you need to contact me urgently, best try my mobile 07776 287953. If the mobile dongle idea works, I might even ditch the landline altogether.
Some sad news (6/9/10)
If you have read this page you will know that Glencoyne Engineering takes its name from the racing name of Eddie, a retired greyhound who I adopted back in 2003. Sadly Eddie is no longer with us: he was put to sleep on Friday due to rapidly deteriorating health. The vet believed that he had cancer, and due to his age (13) and fragile condition I decided that it would be best to spare him any further suffering.
Run free, Eddie, nothing can hurt you now. A big, quiet, gentle dog who loved nothing more than to lie on the sofa and have your neck and ears stroked. You will be very much missed.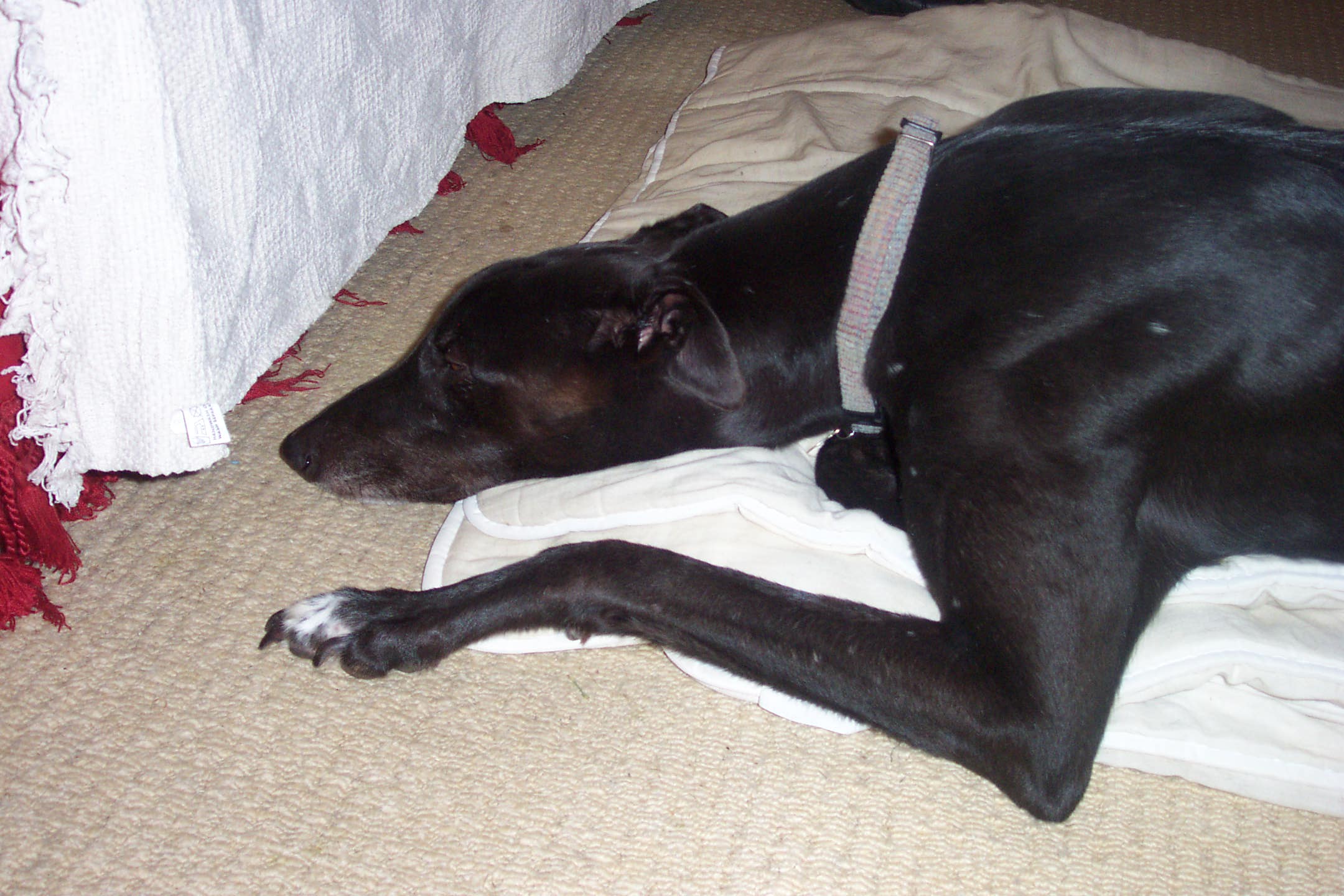 Series 2 on the way up? (24/6/10)
I have felt for a long time that Series 2 and 2A Land Rovers are far too cheap. They have a huge amount of character yet are far more usable than a Series One. Parts are generally cheap and readily available, they cope fine with modern traffic conditions and make far more sense as a weekend toy than most classic cars of the same age. Try getting half a ton of sand into the back of an MGB.
Now I get the impression that Series 2/2A values are at last on the way up. You can still pick up a drivable, MoT'd example for under a grand if you look hard enough, but I have seen a fair few vehicles just lately sell on Ebay for rather more than I would have expected. Perhaps not such good news if you are hoping to buy one, but as the vehicle values increase, we can hope to see some of the hard to find items put back into production. It might even end up making economic sense to restore my 'barn find' 1959 Series 2....
Brief update (31/5/10)
Apologies for the lack of site updates, I have been far too busy keeping old Land Rovers on the road. I have updated the 'For Sale' section with a couple of very nice vehicles being offered on behalf of customers. Both worth a look if you are in the market for a classic Land Rover.
Web shop has been a bit neglected of late, but I will shortly be starting to add a range of good quality, OEM manufacture parts for safety-critical applications. I know from reading the Land Rover forums that poor quality brake, steering and suspension parts are still a major issue in the Land Rover world, and I hope to be able to do something about this by offering parts from reputable manufacturers at a reasonable price.
Bodge of the month comes from a nice little Series which came in for service and MOT. One wheel bearing was very rough and had a lot of free play. Inside the vehicle was a fail certificate from the previous MOT, listing that particular problem among other things. So off with the hub to reveal a pair of rusty, pitted and comprehensively trashed wheel bearings, lovingly packed in fresh grease. Presumably it took out the roughness for long enough to get an MoT certificate.
Runner-up is another Series, also with wheel bearing issues. In this case, investigation revealed a pair of brand new bearings, but bearing races which were badly pitted, had chunks missing and were of a different make to the bearings themselves. Given that the hub had to be removed to replace the inner bearing, I am really struggling to see why the races weren't changed. They come with the bearings and should always be replaced as a set. They aren't difficult to change.
Web shop! (15/11/09)
At long last my web shop is up and (I hope) running. I have kicked off with service and timing belt kits, my new timing belt tools (see below) and a range of items for 200TDi and Di conversions in both Defender and Series vehicles. I will be adding items as fast as possible. If you have any trouble with the shop please let me know so I can fix it as soon as possible.
Meanwhile in the workshop I have been fitting a short-bellhousing R380 gearbox to a very nice Lightweight hybrid, sorting out broken gearboxes in two Series 3 109s, and I have another Lightweight in for a Di conversion "and by the way, can you have a look at the gearbox for me". Must be the weather...
Timing belts (20/10/09)
Continuing with the timing belt theme, here is a page of hints and tips on changing timing belts.
More new products (11/10/09)
I now have the crank pulley extractor pins available via eBay. Photos below show the two new tools (locking tool and extractor pins) - click on the photos to take you to the relevant eBay page.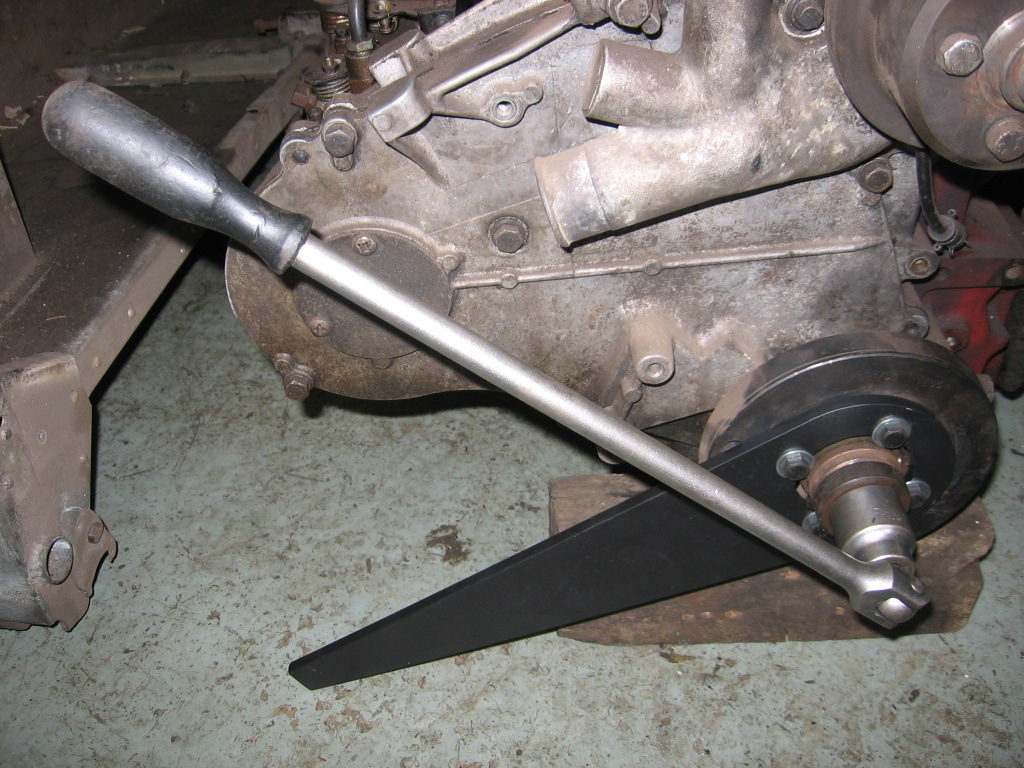 Crank locking tool in position on a 2.5TD.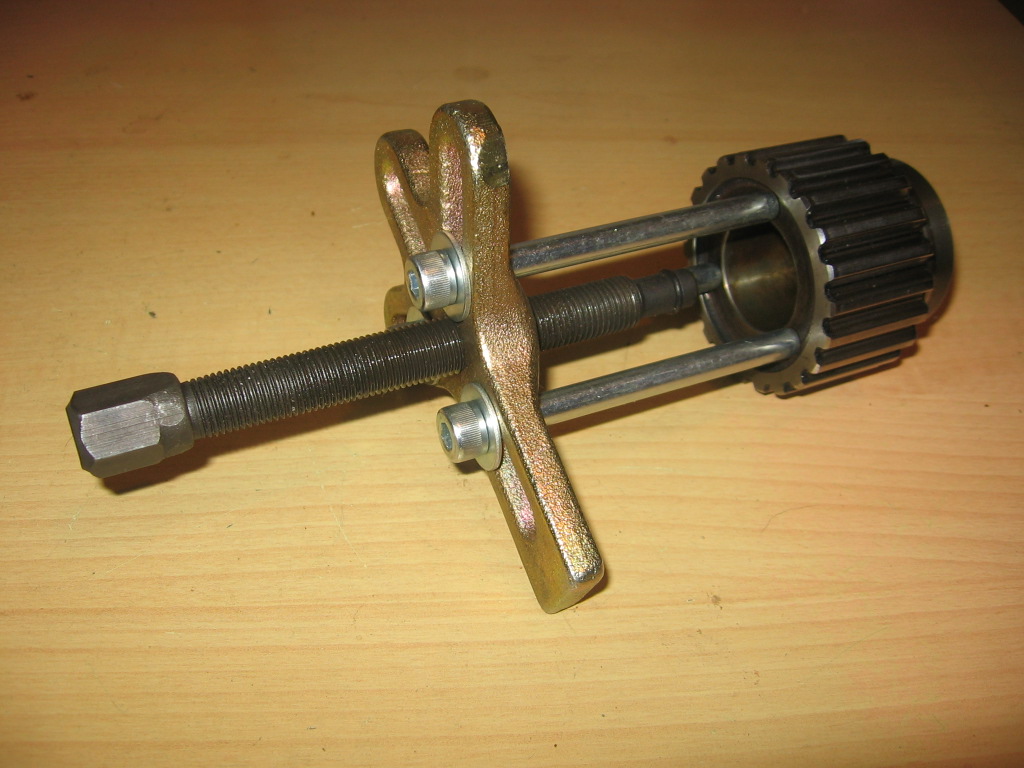 Extractor pins and harmonic balancer puller on a 200TDi pulley.
I am also offering both tools together in one package on eBay. Prices inc VAT are 18.95 for the locking tool, 18.95 for the extractor pins, or 34.95 for both tools together (compared to 250 for the official factory tools to do the same job). Please note that although the extractor pins will work with any 2.5 diesel 'four' from 12J to 300TDi, the locking tool is only suitable for engines with a detachable 'V' pulley held on with four bolts. That means 200TDi (all) and most 11J, 12J and 19J engines, but not early 2.5s with the one piece cast vibration damper and pulley, and not the 300TDi. I may make an adapter available to use the tool with the 300TDi if there is enough demand, but at the moment I am struggling to get a decent price on it.
Some new products (1/10/09)
A couple of new products in the Ebay shop, exclusive to Glencoyne 4x4. For 200Di/TDi conversions I now have exhaust manifold clamps (for Di) and a thermostat housing kit (Di and TDi using the Series radiator), and the alternator mounting kits are back in stock. I also have new supplies of the Zenith 36IV reproduction carburettor, but limited stocks and I don't know when the next delivery will be.
Of interest to many more people is a crankshaft locking tool for 2.5 diesels (11J, 12J, 19J) and the 200TDi. This does the same job as the 100 factory tool but I am selling them for about a fifth of that price. If you have ever tried to do a timing belt change on one of these engines you will know how hard it is to get the front crank pulley bolt undone - this tool locks the vibration damper solidly in place (braced against the front diff) so you can apply maximum force to the bolt with a breaker bar. It performs the same function when you tighten the nut again - depending on the engine type, torque setting can be 200-250 lb ft which you will struggle to apply just by putting the vehicle in gear and pulling the handbrake on hard.
Next week I should have another tool for the second hardest job on these engines - pulling the toothed pulley off the crank so you can change the front crank seal. Again this will be a fraction of the price of the official factory tool.
Looking forward from there, I am in the process of setting up a Web shop which will be aimed firmly at the DIY enthusiast, offering new parts, technical advice, hints and tips in a user-friendly format. This should be live in the next two or three weeks.
Another classic from Bodgers Corner - I had a Defender come in which had been fitted with a Disco 200TDi engine, but using Defender manifolds. If you have ever done this you will know that the alternator and power steering mounting can be a bit awkward. You can't use the Disco alternator and PAS pump bracket as the alternator gets in the way of the manifold intake, and the Defender bracket won't fit either as the timing case on a Disco doesn't have the necessary mounting points. The 'solution' on this vehicle was a Defender mounting bracket with one bolt holding it onto the block, then a piece of angle iron with one end bolted to the power steering pump and the other end directly to the chassis, which didn't do a lot for vibration levels. The alternator and PAS pump were angled inwards at about 15 degrees, the pulleys didn't line up and both belts were shredded. In the end I used a Disco power steering pump and bracket, with the top of the bracket cut down to clear the air intake, and bolted the alternator to a couple of fabricated brackets on the top of the timing cover, where the aircon pump would sit on a Disco. Not difficult, and worth remembering if you are planning a similar conversion.
Still busy (26/7/09)
Normally I expect things to go a bit quiet in July and August. This time last year I was pushing a broom round the workshop floor for the twentieth time and scratching around for stuff to sell on Ebay. Not this year. Last week I managed to get one Di and one TDi conversion out of the door (I think that makes about a dozen Di and TDi conversions since the start of the year) and I now have a very nice Series 3 109 in for a new gearbox and clutch, a 90TD for a TDi conversion and new gearbox, a 109 Station Wagon for sundry welding and minor repairs, a workhorse 90 which is running on three cylinders and missing most of its rear crossmember, a lovely original 2A 88 station wagon for various major mechanical repairs, and a 109 V8 undergoing a full chassis-up rebuild (the last one I will be doing for the time being). All very nice, although a bit of a headache in terms of scheduling.
I've had some useful feedback on the 200Di conversion which I have put on the FAQ page. I am working on various Di and TDi conversion bits when I get the time - hopefully I should be able to get a few more parts onto the market before long. I have just had a new batch of alternator kits in, and I am working on a cooling system kit for fitting the TDi engine with the Series radiator. I also have clamp kits for the 200Di exhaust manifold conversion. I'll try to get them on Ebay in the next few days, along with some other assorted bits that I have accumulated. One problem with doing all these engine conversions is that I end up with a big pile of not-so-good engines, so if you need any second hand bits for 2.5 NA or TD, or 2.25 petrol and diesel engines, get in touch and I may be able to help.
A couple of MoT developments that people should be aware of. Firstly, since the end of April the attachment points for the tow hitch have been MoT testable. That means that if you have holes in the rear crossmember, even if they are not within 30cm of a suspension mount (as on most Defenders) your vehicle will fail the MoT if there is a tow hitch fitted and the holes are within 30cm of the tow hitch.
Secondly, at the end of the year the 'dual purpose' exemption will be phased out. This means that all vehicles over 3000kg gross laden weight will need to be tested Class VII. In theory this should only affect Defender 110s without self levelling suspension, 130s and Forward Controls. However, as explained on this page, many older Land Rovers have the GLW recorded on the V5 as 3499kg. If your vehicle falls into this category you will need to get the V5 amended by the end of the year, otherwise you may find your usual MoT station will refuse to test it. Class VII MoT stations are fairly thin on the ground and they are going to be a lot busier from Jan 1st next, as they will have large numbers of Nissan Navaras and similar large pickups to deal with. (Apparently the sales success of the Navara in particular is what prompted VOSA to withdraw the dual purpose exemption. They get more money from Class VII tests.)
More than twenty years after unleaded petrol became generally available in the UK, the topic of running older Land Rovers on unleaded still keeps coming up. So I have put together a page of information which will tell you what (if anything) you need to do to run your old Land Rover on unleaded. Click here to read it.
Fiannly, a warning about semi-fluid grease. This is the stuff that people put in their front swivel housings in place of EP90, as a temporary fix to delay the need to replace pitted chrome balls and worn swivel seals. It is sold by Land Rover dealers for exactly that purpose and I believe that more recent Defenders have it from new. As a swivel bearing and driveshaft lubricant it seems to work fine, but I have now seen three instances of wheel bearing failure due to inadequate lubrication, on vehicles where the swivel housings have been filled with semi-fluid grease. On older Land Rovers the wheel bearings are not packed with grease as on most vehicles, but are lubricated by EP90 oil which works its way from the swivel housing through the stub axle and into the hub. Semi-fluid grease appears too viscous to lubricate the wheel bearings in this way. So if you are going to use semi-fluid grease in your front swivels, I very strongly recommend that you remove the front hubs and pack the bearings with ordinary bearing grease. And as per my previous blog post, make sure you use a new locktab when you put it all back together. If you can lay your hands on the correct box spanner for the hub nuts instead of using a cold chisel, even better...
200Di developments (21/4/09)
There has been a flurry of interest in 200Di conversions, such that I find myself with five to do over the next month or so. This has prompted me to have a look at some of the more awkward aspects of the conversion, and I have now comprehensively updated the 200Di conversion pages to incorporate the latest changes. The headline news is that I have managed to fit a 2.25 diesel manifold and downpipe to a TDi head without too much bodgery, so the 200Di is now a 'no welding required' conversion. I have also added a FAQ page.
Bodge of the Month award goes to a very nice long wheelbase Series 2A which came in a few weeks ago for an engine change. A road test showed that the brakes were binding, and it wasn't too hard to spot that the master cylinder (a newish item) had been fitted with the pushrod adjustment about half an inch out.
So we sorted this out, which resulted in excess pedal travel (as opposed to none at all previously). No problem, just need to nip up the brake adjusters. So I jacked up the front, got underneath and immediately spotted two things:
1. The front brakes were short wheelbase type, 10 inch single cylinder items. The rears were standard LWB 11 inch, so the vehicle actually had more powerful brakes on the back axle than the front. This is not generally regarded as a good idea.
2. Both front wheels were about to fall off. One side was missing the locking tab for the hub nuts, and the tab the other side had been reused and broken. In both cases the hub nuts had partly unscrewed themselves, leaving the hubs flapping around on the stub axles.
Moral is: don't mess about with brakes unless you know what you are doing, and never, ever reuse the locking tabs on the hub nuts. I should make it clear (in case the current owner is reading this) that the bodgery in question dated from before he had bought the vehicle.
Merry Christmas (25/12/08)
I have spent some of Christmas morning tidying up the website (a lot easier than tidying up the workshop). The changes mainly reflect a decision that I have made to concentrate (very sensibly in the current climate) on building up the parts of the business which make money. Sadly, full chassis-up restorations don't fit that description, fun though they are to do, and so I have decided that for the time being I cannot accept any more commissions for chassis-up restoration work - click here for a slightly more detailed explanation. I still have a good few months worth of major restoration projects on the books, and I will of course honour all existing commitments. So if I have already agreed to rebuild your Land Rover, don't worry.
Hopefully this decision will leave me with more time (and space) to focus on a couple of new development projects, and to expand the servicing and repair side. Who knows, I might even buy myself a four post lift. I'm getting too old to crawl around underneath Land Rovers on a cold floor. I want to try and get hold of a couple more vehicles to break, as I am starting to run short of good parts to put in the Ebay shop.
As I finish my second full year of trading from Napier Place I would just like to wish all my customers, past present and future, a very Merry Christmas and a Happy New Year. Thank you for your support, and I look forward to helping keep more old Land Rovers on the road where they belong in 2009.
Investors wanted (2/12/08)
When I set up the company two years ago I really couldn't have chosen a worse time to start, although I didn't realise it back then. The pattern for most small businesses is pretty simple - you start off with a lump of capital, burn through it all in the first couple of years, and then if your business has survived you can go out and borrow money to expand. By that time you've got a couple of years of trading results, a good solid customer base and (hopefully) a decent order book. All of these things I now have, but surprise, surprise, the banks aren't interested in providing me with the kind of working capital facility that I need to run a business of this size, let alone expand it.
So I am now open to offers. I am looking for one or more investors to inject money into the company, either via long-term loans or purchase of an equity stake. I am open to the possibility of active investors buying a large stake in return for involvement in the day to day running of the company - if you are thinking about setting up your own Land Rover business you can save a lot of grief and money by buying into one that is already up and running. But I am equally happy with the idea of lots of people putting in 500 each.
I am looking to raise around 15,000. This will allow me to set up a small parts counter, start a campaign of local advertising (right now my advertising spend outside this website is nil) and will provide sufficient working capital to meet the day to day operating requirements of the business.
All serious approaches will be taken seriously and treated in strict confidence. If you would like to be involved in building Glencoyne Engineering into one of the UK's leading Land Rover restorers, please contact me for an informal initial chat.
Horror of the month (2/12/08)
Had a very nice little Series 2A in the workshop, fitted with a Rover V8 on SU carbs. The owner brought it to me for a service and MoT, and asked me to do something about the rough running. The carbs had been worked on by a company claiming to be a Rover V8 specialist (NOT the good folk up at RPI near Norwich) and the vehicle had not run right since.
So what did I find? The right hand carb had been fitted with a new float, needle and seat, but the float needle had been fitted upside-down. The left hand carb had an old, rather worn float needle, but the float was one from a right hand carb, fitted upside-down. So the float was jammed solid when the bottom cover was fitted. The throttle return spring on the LH carb was fitted back to front so it tended to open the throttle rather than close it, the choke link rod between the two carbs was wrongly adjusted and holding open the choke on the LH carb, the little valves on the throttle discs had worn badly (quite common, I usually just solder them shut) and the jet and needle heights were all over the place. In the end it took about three hours to find and fix all the faults, after which the V8 engine ran as it should.
I've seen a fair few DIY repair jobs which have gone wrong, but this has to be the worst piece of work I have ever seen done by so-called professionals. Not just bad but dangerous, with petrol constantly overflowing from the RH carb due to the upside-down float needle.
Quick update (2/11/08)
Some really good news is that I now have Craig Lambert working for me. Some of you may have come across him via the Series 2 Club - he has many years experience restoring classic Series Land Rovers, and has until recently been engaged in sub-contract restoration work for one of the biggest names in the classic Land Rover business. Meanwhile Adam, my trusty apprentice, has moved on to bigger and better things. I wish him all the best, and I know he will be a great asset to his new employers. I wouldn't have got this far without him.
I have now started to offer a range of parts to help with 200TDi and Di conversions. First two, now available via my Ebay shop, are an alternator mount kit for TDi conversions without power steering, and a modified flywheel housing to fit either Series or 90/110 (Defender) vehicles, incorporating the four long bolts at the bottom. More items to follow shortly, I might even get round to doing some 200Di exhaust downpipes at last.
I have had to drop the idea of seminars for the moment - simply not enough demand. Never mind, I have plenty else to keep me busy. Here's 'FGJ', the 1982 109 V8 Hicap, drivable for the first time in many years:
Due in shortly is a 1987 Ninety TD - the first chassis swap I have attempted on a coil sprung vehicle, but I am sure it will not be the last.
I have put a load more parts in my Ebay shop, including some very rare parts for Series and Stage 1 vehicles. More to follow as I get round to listing it.
Finally, and with Christmas just round the corner, why not make a young Land Rover enthusiast happy? Joshua loves his Land Rovers, but he hasn't had the best of luck in his short life so far - he had kidney cancer which was treated, but the problem has now resurfaced and he faces a long and painful period of treatment over Christmas and beyond. His Mum thinks it would really cheer him up to receive a huge pile of 'get well' cards from Land Rover owners, and Vince Cobley of Pro-Trax Off Road has volunteered to co-ordinate the appeal. So please take a few minutes to send Joshua a card, maybe with a photo of your Land Rover or something similar. Cards should be sent via Vince Cobley at Pro-Trax Off Road Adventures, Cromwell House, 2 Debdale, Stoke Albany, Leics. LE16 8NX.
Name change (28/4/08)
A couple of people have said to me recently that they thought I was based in Scotland. So I have adopted the trading name 'Glencoyne 4x4 (Thetford)' which will hopefully make my location a bit clearer, and this will appear on my invoices, business cards, letterhead etc. I will not be changing the name of the company for now, and cheques should still be made payable to 'Glencoyne Engineering Ltd'.
Ray managed to get his Series 3 200TDI running with very little help from me. I haven't driven it yet, but he is very pleased with the result so far. It does require a lot of extra work to fit, compared to my 200Di conversion. I reckon that to do the job properly would cost around 500 more than a 200Di, although I haven't done any detailed costings yet.
I have now started work on restoring 'FGJ', probably the oldest surviving 109 V8 Hicap. I have acquired another Stage 1 V8 as a donor vehicle, and will be selling various bits of this through Ebay over the next few weeks. Meanwhile, if you are looking for Stage 1 parts, give me a ring, as I have quite a few at the moment.
I have now expanded my fixed price servicing offer to include Series 1 Discovery and Range Rover Classic.
Panel gaps (24/3/08)
Not the gaps between panels, but big gaps emerging in the supply of them. Basically, the biggest supplier of replacement chassis and body parts for older Land Rovers is up for sale, and for the time being they have stopped making any more parts. I suspect that the big suppliers saw this coming, as for the moment they still appear to have reasonable stocks, but supply problems are starting to emerge. One parts supplier local to me now has a backlog of orders for door pillars and footwells. I have talked to a few people in the industry, but no-one seems to know whether the supplier in question will be restarting manufacture. I am looking at making some bulkhead repair sections (footwells, lower door pillars) for my own use, but I doubt I will be able to knock them out quickly enough to be able to sell them at a reasonable price. At least they should fit....
Although I am as big a fan of the 200DI conversion as I ever was, I have to recognise that the majority of people want a full-fat, turbo-intercooled diesel in their old Land Rover. As I write this, a short wheelbase Series 3 is sitting in my workshop less engine and gearbox, waiting for a TDi conversion. The hard work is being done by my good friend Ray (it is his vehicle after all). We will be rebuilding the gearbox and transfer box in an attempt to ensure that the finished vehicle holds together, and Ray has some interesting ideas to tackle the vibration problems that afflict TDi- powered Series vehicles. Ray has a long track record of fitting engines into vehicles that were not designed to take them, so this should be a pretty thoroughly engineered conversion - more details to follow once we have got the beast up and running.
The 110V8 LPG conversion that I mentioned in my last report turned out to be a bit of a nightmare for various reasons. Apart from anything else I had to replace most of the offside rear chassis rail between the axle and rear crossmember. But it all came together in the end. This particular conversion uses an underslung tank from RPI located where the petrol tank used to be, combined with a replacement 10 gallon petrol tank under the driver's seat. If you want the advantages of LPG without any loss of interior space, this conversion will be exactly what you are looking for. It isn't cheap (1995 plus VAT) but you won't find better.
Disco fever (11/2/08)
Discovery 200TDi engines are getting cheaper, as the market is flooded with rotten MOT-failed Series 1 Discos. If you are thinking of converting your Series vehicle to 200Di power, or replacing the tired old engine in your Ninety or One Ten, take a look at my web pages and see what I can do for you. I will do my best to fit your vehicle in, even though my workshop is stuffed with lovely old Land Rovers. Jobs in or pending include a chassis-up restoration of a Series 2A 109 inch, off the road since 1982, and with just about the most rotten chassis I have ever seen. When I jacked it up at the front, the front dumb irons started to give way. I should also be shortly starting the restoration of the oldest surviving 109 V8 Hicap (unless anyone knows of an older one), I have a 1961 Series 2 due in tomorrow (possible engine change, depending on the results of a compression test), a 1981 Series 3 undergoing an unleaded conversion, new brakes and a bit of welding, a 110 V8 due in next week for a very interesting LPG conversion (which I will write about when I have done it) and I am expecting a Series 1 to turn up at the end of this week for some major fettling.
My little Series 3 (A230RVV) has gone to a new home in Hertfordshire. It was the development vehicle for the 200Di conversion, and the most dependable Land Rover I have ever owned. But it was never quite big enough: I really needed more room inside, and so I have acquired a 1981 109 V8 Station Wagon. This one needs a fair bit of work. The body side frames are rough, the bulkhead only has a couple of years life left (if I am lucky) and there are some unconvincing welded repairs to the rear crossmember. But it is very straight and original, has almost a full year's MoT, and drives better than any other Stage One I have driven (apart from the one I rebuilt from the ground up last year - see entry for 17/4/07 below). I thought about dieselising it, but that would be a shame as the engine is so good, so it will probably end up with an LPG conversion.
Bulkhead restoration continues to take up much of my time: I have three Series 2/2A bulkhead restorations pending, a TD5 to Series 3 conversion, and the first Lightweight bulkhead I have been asked to restore. I am especially looking forward to doing the Lightweight, as the footwell and hinge panels now available for these are absolutely gorgeous - a million times better than the ill-fitting rubbish that is all I can buy for the civilian ones. Rumours abound of a new supply of proper civilian footwells, with the strengthening ribs pressed in, but I haven't seen any yet.
Good news if you want something painted - I think I have found a reasonably priced bodyshop not far from me. I had a lot of problems with the guy I was using before, as some of my customers will know only too well. He went bust in the end, and no wonder. I have given the new bodyshop a bulkhead and a couple of door tops to spray - if they come back painted to a decent standard and on the agreed date, we are in business.
Finally, the seminars... When I came up with the idea, it was a fairly quiet period in the workshop. The moment I posted details on the website, the demand for my workshop services went thermo-nuclear. So I haven't exactly put a lot of effort into marketing the seminars, and as a result, I have not yet had enough enquiries to make them viable. I have not given up on the idea, but will give some thought to the best way to market them, and come up with some new dates in the near future.